Azealia Banks is one of those artists that in more recent times has become more famous for their antics than their releases. The talented artist has, much like 50 Cent, seemingly made a past time of being infamous on the Internet. This time, she's taken aim at Kanye West's wife Kim Kardashian – since she can't get a rise out of the rapper.
Azealia and Kanye have been locked in a one-sided bull fight since the two fell out over music, fashion and a few other things the world may never know anything about. Kanye's been her target because she feels that he's been more supported than her in their similar mental health issues – a fact which seems to irritate her immensely.
What's also been upsetting to some is her confusing inclusion of Kim Kardashian into her problems with Kanye. On one occasion, Banks seemed to be trying to spur into apologizing to his wife Kim Kardashian for his behavior on social media during one of his recent mental health crises.
I'm giving all Good music artist back the 50% share I have of their masters

— ye (@kanyewest) September 23, 2020
While Kanye was tweeting about how he was going to give all of his G.O.O.D. artists their master shares that he controls via his label, Banks interjected on her own behalf – and his family's.
"Now pay me for the yeezy modular kit I designed and the months of consultation that went with it," Banks tweeted, apparently still owed money for a project that she collaborated on with West. A litany of demands followed, mostly professional.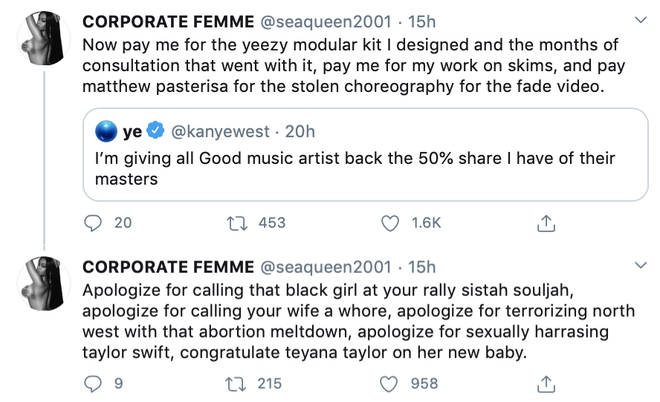 Another tweet in her thread also drew attention because not only did it ask Kanye to apologize to a Black girl that he had previously interacted with at a rally, but also asked him to apologize to his wife and daughter.
"Apologize for calling that black girl at your rally sistah souljah, apologize for calling your wife a whore, apologize for terrorizing north west with that abortion meltdown," she continued.
There was never a response to Banks' tweets or demands, however. Kanye seems to either be occupied with taking care of his own mental health or is just totally unaware that the rapper has beef with him and doesn't even care. Now, Banks is taking the opposite route and once again coming for Kim Kardashian out of seemingly nowhere.
Kim Kardashian, minding her own business, took to Instagram to promote her shapewear line, SKIMS, and celebrate the line's new partnership with SSENSE. The brand, which launched last year, did a campaign shoot to announce their collaboration, and Banks somehow found the pictures offensive – and took to her own Instagram Stories to denigrate Kardashian and her private parts.
"It is really time for kim kardashian to retire this beat up c–chie. It just looks worn out. Nothing about this big beaver she has in this photo is even remotely sexy. Terrible advertising."
Apropos of nothing, she had a parting message for nemesis Kanye about his wife's constant overexposure in the next slide of her Instagram Story.
"Kanye, this is all your fault," wrote Banks.