It's apparently a year of court appearances and lawsuits for Kanye West. The Chicago rapper is going through a divorce from his estranged wife, Kim Kardashian, added to a lawsuit from several members of his Sunday Service crew. A tech company also filed a suit against West for matters pertaining to his Sunday Service endeavors as well as the Yeezy Brand. But now, West is doing the suing, and he's going after a major corporation.
Kanye West, like many major celebs in his position, is no stranger to lawsuits, but also no stranger to good relationships. The rapper and businessman recently announced a partnership with his Yeezy brand and major retailer, Gap, that will see them develop clothing for men, women, and children at "accessible price points, according to CNBC.
YEEZY AND GAP FORM PARTNERSHIP #WESTDAYEVER pic.twitter.com/NyxgfYTjJM

— ye (@kanyewest) June 26, 2020
The announcement was labeled a full-circle moment by many excited fans who know Ye's backstory with Gap. As a teenager, the rapper was employed at the Gap; an experience he's included within his music. His 2004 single "Spaceship" consists of the lyrics: "Let's go back, back to the Gap/Look at my check—wasn't no scratch/So if I stole, wasn't my fault/Yeah, I stole—never got caught."
Gap's global head of brand, Mark Breitbard released a statement to the news media which spoke to the company's being thrilled to partner with Kanye in their reported newly minted 10-year agreement. "We are excited to welcome Kanye back to the Gap family as a creative visionary, building on the aesthetic and success of his YEEZY brand and together defining a next-level retail partnership," Breitbard's statement read, as stated by The New York Times. It is also being reported that after the 10 years is up, there is an option to renew for another five years.
Nearly one year after making the major announcement, the first item of the line debuted on the Internet. On the rapper's 44th birthday, an image of what looks to be an electric-blue bubble jacket appeared on Gap's "Yeezy" section of their website with an option to pre-order. Within hours the jacket, which was priced at $200, was reportedly sold out.
One thing about Kanye's fans, they are loyal to a fault and largely support his efforts, especially with his branding and merchandising. The interest and sales for his Yeezy sneakers have been through the roof. In 2019, Ye debuted his "Yeezy Foam Runners", which looks to be his version Ye's version of "crocs" that were first seen on his daughter, North West. They would then be made public in 2020 and priced at $75, instantly selling out, Sneaker News reports.
The shoes, however, were soon seemingly imitated and duplicated by Wal-Mart, which Kanye claims in a new lawsuit knocked off his design. TMZ reports that Kanye and the Yeezy brand are suing Wal-Mart for attempting to resell the sneakers on their site for a fraction of the price ($21.99 to $33.99 a pair as per legal documents).
The Wal-Mart knock-offs, or the "Daeful Mens Womens Kids Summer Beach Shoes Foam Runner Anti Slipper Sandals Casual" as seen on their official website, are an "unauthorized exact copy" as per Kanye's claims, and he's seeking major damages.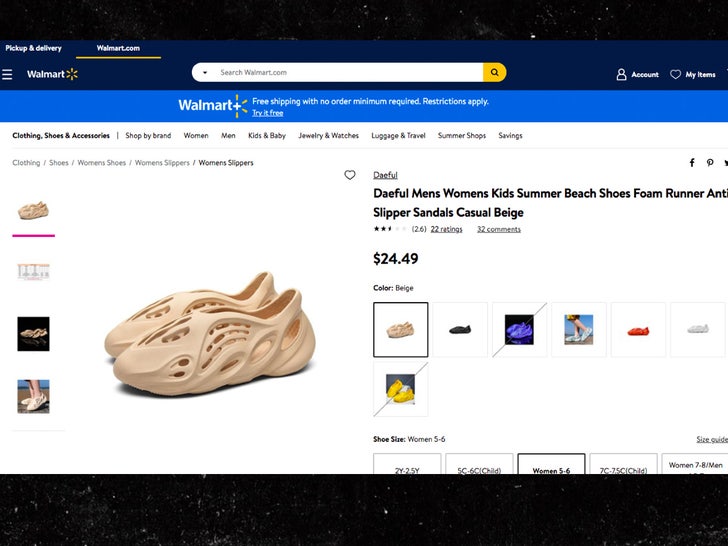 "Walmart is flagrantly trading off of his and Yeezy brand's popularity by offering for sale an imitation version of the Yeezy Foam Runner," the 66-page legal documents stated. "Consumers are purchasing the imitation Yeezy Foam Runner footwear from Walmart on the mistaken belief that the shoes are associated with West and the Yeezy brand, as evidenced by comments on the Walmart website and social media," the Daily News reports.
In response to the lawsuit brought by Ye and Yeezy, Wal-Mart issued a statement. "The product referenced in the complaint is not sold by Walmart, but rather by third party Marketplace sellers. We take allegations like this seriously and are reviewing the claim," the statement read. "We will respond in court as appropriate after we have been served with the complaint."
Kanye's lawsuit comes on the heels of a trademark dispute that he is currently embroiled in with Wal-Mart, who took legal action against him over what they view as a similar logo to theirs, which they have had for 13 years. We originally reported on the story, which you can read here.