Either Chase Bank is becoming way more generous these days, or somebody and/or something in the water isn't quite clean over at the corporation. Just as one woman in Florida discovered that she was an overnight billionaire, another instance has occurred where this time, a couple discovered that their account was stacked with over ten figures.
A week ago, a woman by the name of Julia Yonkowski was given the shock of her life when she went to an ATM at her local Chase Bank in Florida. As per our initial report, Yonkowski went to withdraw $20 but discovered that $999,985,855.94 was pleasantly staring back at her on the receipt.
Who wants to be a billionaire? Not Julia Yonkowski. At least not the way it happened.

"I know most people would think they won the lottery but I was horrified," Yonkowski said.https://t.co/dCdZgMFmnB

— New York Daily News (@NYDailyNews) June 21, 2021
Yonkowski told reporters she felt that she was a victim of fraud and "did not know what to think." She spent the weekend trying to contact a representative from Chase but was unable to reach anyone except for their automated service. Finally, a representative from Chase reached out to her to "clarify the discrepancy." All the while, Yonkowski never touched the money.
In what seems to be a consistent error, or what looks like a "billion-dollar-giveaway" from the bank, Chase reportedly made the mistake again recently. A Louisiana couple now has reportedly been teased with billionaire status over the past weekend after a couple discovered a whopping figure in their balance.
Forty-seven-year-old Darren James of Baton Rogue, LA, shared to local news station Fox 11 that over the weekend, his wife showed him the shocking discovery that they were billionaires. James says that his wife showed him a screenshot of a $50 billion deposit in the account. The discovery of course frazzled the couple, who began to think where the money could have come from.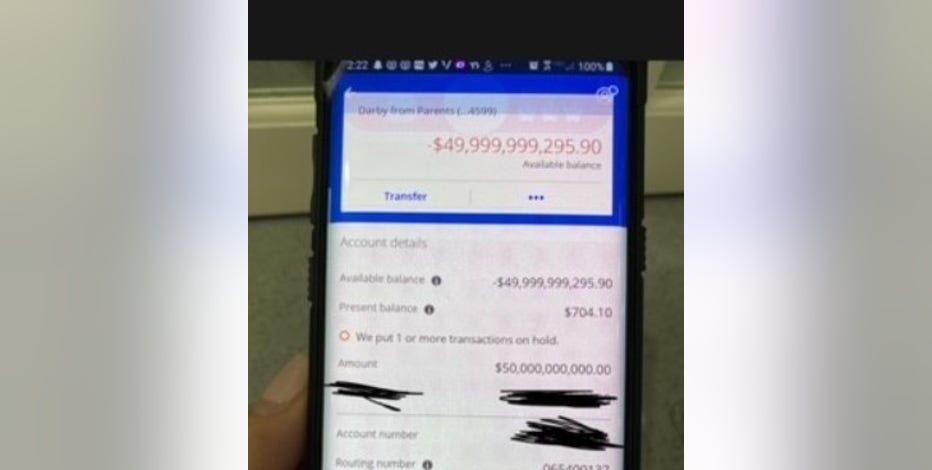 "I'm like, 'Where did that come from?'" questioned James, "and all we were thinking was who's going to be knocking on our door … because we don't know anybody with that type of money to begin with." James, who has an employment history with law enforcement, knew the money wasn't there's to keep, they began the process to rectify the situation.
Finally after four days, they got a hold of Chase, who proceeded to rectify their error. The feeling, although fleeting, brought a slight bit of joy to the family as they could taste the potential of helping others that are in need had they really had access to that fortune. "It was a great feeling while it was there to see that many zeroes in your account," James said.. "It was pretty neat to see what it looked like."
On what his intentions would be with the billionaire status he said, "I would bless other people… to give people hope that there is positive in this world. That's what my biggest dream is… I love being able to bless people. I love being able to do the right thing."
However, the debacle has led James to worry about the security of his account. The lack of Chase's ability to provide information to James and his family left them unsettled, who would like to know "why it happened."
Oddly enough, The Sun reports that some TikTok users have brought to light the fact that there has been a discrepancy in their Chase accounts, many occurring over the same time period. The reports led Chase to address the various claims in a statement.
"We had a technical glitch over a week ago impacting a limited number of accounts," the statement read. "The issue has been resolved and those accounts are now showing accurate balances."