If you don't remember B.o.B., then you may remember one of his hit singles like "Airplanes" with Hayley Williams of Paramore, or perhaps "Nothin' on You" with Bruno Mars. If that doesn't job your memory, then perhaps you remember him spouting the conspiracy that the Earth is flat?
Rapper Bobby Ray Simmons Jr., known as B.o.B., got his big break back in 2010, as his debut album had a number of hit singles and ultimately resulted in a Grammy nomination for the new artist. In the years intervening, the artist has taken a more defensive stance, due to some of his controversial opinions and thoughts.
B.o.B. has gotten into it on social media over his views repeatedly and has become a "conspiracy theorist" in that he holds a number of views that are considered to be more fringe than not. One of the biggest issues that has been an anchor around his neck has been his views on the Earth. B.o.B. has become a noted "Flat-Earther," people who believe that the Earth is flat and not round.
@bobatl Duude — to be clear: Being five centuries regressed in your reasoning doesn't mean we all can't still like your music

— Neil deGrasse Tyson (@neiltyson) January 25, 2016
Bobby Ray even got into a back-and-forth with noted astrophysicist Neil deGrasse Tyson over his views. The astrophysicist is a noted celebrity in the world of science thanks to his Twitter following, and he used his tweets at one point to try and convince B.o.B. that he just wasn't correct – which resulted in a backlash he was… unprepared for.
"Rappers get off of my d—, get your own bars up / Now the mirror lizard's breath got the clones scared," rapped B.o.B., on a diss track he released to Tyson.
"Why is NASA department of defense? / They divided up the seas into thirty-three degrees / Feeding kids masonry, bruh, be careful what you read."
That's a lot of conspiracy theories for one diss song and while there never was a response from Tyson, the Internet finally seemed to have had enough of B.o.B. and his conspiracies. Of course, a rapper and personality like B.o.B. wasn't going to go down without a fight – even if he didn't have any "lizard" people on deck to "keep the clones scared."
The rapper then took his argument to GoFundMe, in order to raise funds to prove that he was right — by launching satellites into space, despite the fact that there are already plenty of them orbiting our planet. Unfortunately, Flat-Earther's do not trust NASA, or a lot of government, for that matter.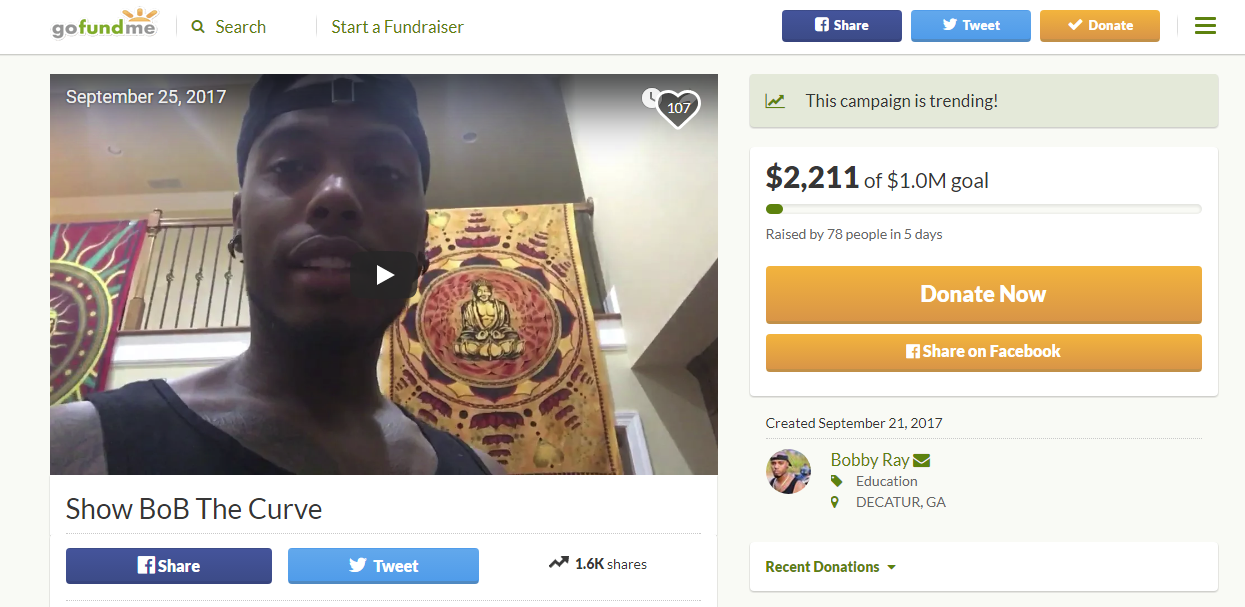 B.o.B.'s total asking price on his campaign was a smooth $1 million dollars, which he wanted to raise and use the funds to "launch one, if not multiple, satellites into space," toward the goal of "finding the curve," back in 2017.
Unfortunately for Bobby Ray, the campaign ended up being frozen by GoFundMe so that they could verify that the funds wouldn't be misused, according to site The Verge at the time.
Screenshots from around the time show that the rapper was only able to raise about $2k, $1,000 of which he allegedly contributed himself, before his campaign was pulled.
Check out some of the rapper's current music below.