Usually, if something is too good to be true, it probably is. A bevy of up-and-coming independent artists is learning that the hard way after coming across what they thought would be an opportunity with one of their favorite artists, only to be allegedly scammed out of their monies.
Of course, the artists on the receiving end of these DMs cannot believe artists like Fat Joe, Jadakiss, Benny The Butcher, etc…, are reaching out, TO THEM, about a mixtape placement.

Here are just some of their public reactions on Twitter: pic.twitter.com/xikDhQDUHY

— Z (@djboothEIC) June 29, 2020
The concept of "pay for play" is not an old one and is publicly frowned upon. Yet the hustle and hunger in many artists going after their dreams will sometimes block rationale. Over the summer (and seemingly due to loss of income thanks to the pandemic) a few verified artist accounts on Instagram began to post what looked like a call to action for independent artists to potentially work with them in some capacity.
Notable artists such as Fat Joe, Tank, Mario, Bow Wow, Safaree, and The Game posted messages in the vein of "DM me if you rap" or "Tag a dope artist/singer". Once tagged, these artists soon noticed DMs from these respective artists that would begin to interact with them with messages that showed a bit of promise for a potential collaboration.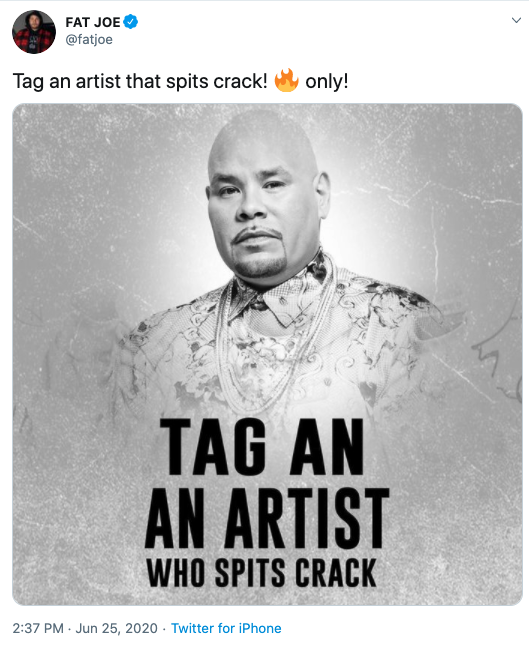 However, after a brief moment of small talk, these artists would then get hit with an offer for a slot on a "mixtape" or "playlist" that could boost their visibility. The opportunity would come with a price as the independent artist would be encouraged to invest in themselves.
Hundreds of artists spent their hard earned monies and took the chance, only to perhaps be placed on a SoundCloud playlist where the highest play count has been reported to be under 1500 streams. A few weeks ago, one artist shared their experience after receiving a DM from what appears to be Safaree Samuels's Instagram page.
"This how he got me. He hit me up first actually on Instagram," the artist said. "He was like, 'Yo, your track is hot' … He told me that he could do a little promo for me, throw my track on Spotify, on the playlist for me and all that for $1,000. So, I paid him, and weeks and months go by. So, I'm hitting him up. He said, 'Oh, I forgot you on this tape so I got you on the next project.' It was supposed to drop in November. So, after November, he completely stopped responding and he basically got me out of $1,000, so I just have to take my L."
Now The Game is being put on blast as numerous artists are coming forward to share similar stories as it pertains to him. Allegedly, the west-coast rapper is sliding into DMs with similar messages and offering slots on his SoundCloud mixtape with each slot costing anywhere between $500-$1000. Once the transaction is completed, however, they are placed on the playlist but the rapper does absolutely zero promotion.
These artists are undoubtedly upset as they feel they are not receiving what they have bargained for. None of the artists involved have commented on the allegations.