It's been wintery in Summer Walker's heart when it comes to her producer and father to her child, London On Da Track. But when it comes to their daughter, her heart is warmer than the Sahara on the hottest day of the year. And while Walker shared that she would be keeping that bit of joy to herself and would not be revealing her little girl's identity to the world, it looks like she had a change of heart as she introduced the on-again-off-again couple's bundle of joy to the world.
While in production of her debut album Over It, Walker and producer London On Da Track, real name London Holmes, began to date. The couple has been through constant cycles and various vicissitudes in their relationship but made it to 1 year together. Through their ups and downs, Summer took to social media to celebrate their first year anniversary in 2020 with a throwback to their first date.
"Our first date was soo much fun," she captioned her tribute post as captured by The Shade Room before going into the details of their first excursion together. "We went bowling, ate, shopping, & then hit the strip club. I never seen someone throw so much money in my life. A** was everywhere lol I fell in the club from being so drunk so we left, & other celebrities were there so my ratchet a** was probably embarrassing him lol."
She added, "Then we went to his house & I was being a th*t & then I think I couldn't hold my liquor lol but it was lit. & here we are a year later. I'm just reminiscing on fun times since I been in the house for like 8 months BORED AS THE F**K."
Multiple public disputes, fights with his other children's mothers, and more would lead to the couple being on and off, but that did not stop them from becoming parents to a daughter. Fans began to speculate that she was pregnant after seeing her in an Instagram Live where her mid-section was bigger than normal. Initially, she tried to play it off as her being "bloated".
"Y'all weirdos," she begins her rant. "Who demands a stranger to tell you if they pregnant. Lol and what kinda creep wants someone else to have a baby that they will never meet or help them raise[?]… & the answer is no b***h I'm bloated but y'all weird."
The truth of the matter is, they were actually with child. On or around March 24, the "Grave" singer gave birth to a baby girl. Neither parent has confirmed or denied the actual date, and seemingly has chosen to keep her name and identity private, only referring to her as "princess bubblegum" or "bubbles".
In the past, their spats have been made public thanks to Summer taking to social media to air out their dirty laundry. She shared her disappointment with London, with claims that he was an absentee father. "Black men gotta start doing better when it comes to being a father," she wrote on her Instagram Stories. "My grandfather lame, my father lame, & dis n***a lame. lol and I guess the cycle will just continue. I guess n***as still dealing with the shackles of mental slavery or some s**t, back when white men ripped you from your families and beat you to death if you tried to protect them. It goes deep. S**ts really sad."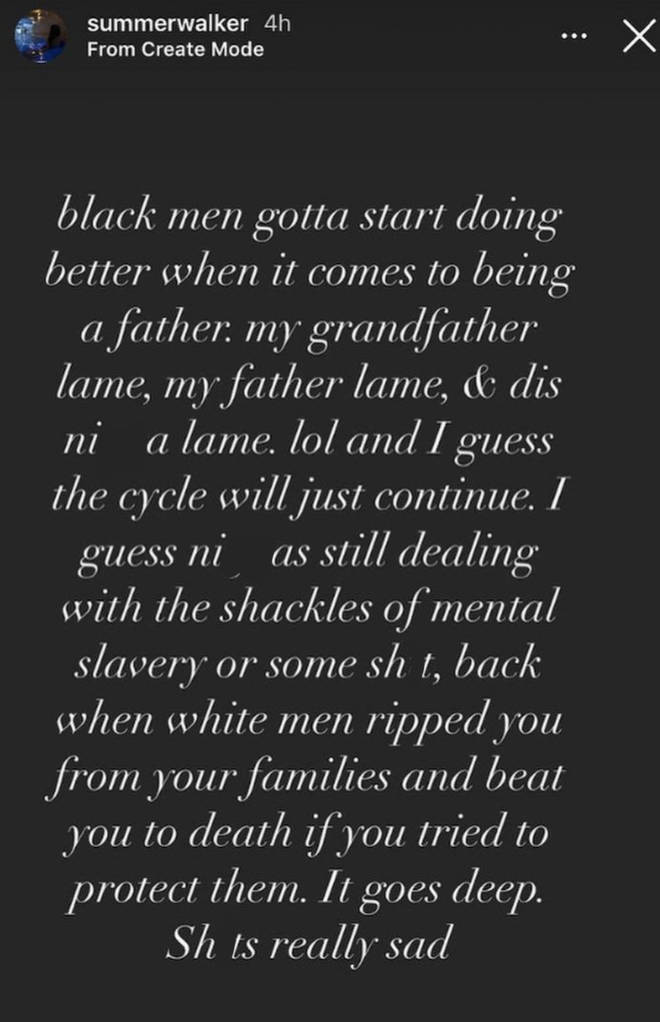 She would continue to call him names such as "selfish" and release different accusations against his family and children's mothers. London took to Instagram to respond to her claims, stating that will not entertain any drama and continue to focus on his career and children.
"I'm not going to let heightened emotions, continued false narratives and accusations trick me into disrespecting the mothers of ANY of my children," wrote London. "I love my kids dearly and currently doing everything in my power (legally) to ensure my kids safety and quality of life. Drama isn't my priority. my children are."
With the birth of their daughter, Summer promised social media that they would never see an image of her child after a fan seemingly set up a social media page for her daughter. "So I guess a fan made this page but let's be very clear, there will be no pictures of my child on the internet," she wrote.
That promise was recently broken as now both Summer and London have released a picture of their daughter. A few months ago, Summer was seen holding their daughter, and social media had a lot to say about the way their baby looked. It seems as though Summer has given that a second thought, and introduced her daughter "Baby Bubbles." On his page, London shared his own picture of their baby girl.
Take a look below.