Normalize in 2021 and beyond not making premature announcements, death hoaxes, and all of the like. Normalize not wanting to jump the gun and being the first to break news on social media. Also, normalize in dire and sensitive situations, allowing the family to be the ones to break whatever news that they choose to share. Amid news of DMX's unfortunate current state, Claudia Jordan shared some tragic misinformation.
Fans of the "X Gon Give It To Ya" rapper/actor have been paying close attention to any news of the status of DMX ever since his admission into the hospital over the weekend. DMX suffered a heart attack and has been reportedly in a coma and "vegetative" state since Friday night.
There have been misleading reports since his being in White Plains Hospital, but his family issued a statement. "On Friday night, April 2nd, 2021, our brother, son, father, and colleague DMX, birth name of Earl Simmons, was admitted to White Plains (NY) Hospital, facing serious health issues," read the family's official statement.
"We ask that you please keep Earl/DMX and us in your thoughts, wishes, and prayers as well as respect our privacy as we face these challenges," they continued, "Thank you."
#developing @ruffryders roll in to White Plains Hospital to pay tribute to @dmx & offer their prayers & suppprt 🙏 #hot97 @HOT97 #fox5ny @fox5ny pic.twitter.com/LwgeB8cZ9n

— LISA EVERS (@LisaEvers) April 4, 2021
Recently, hundreds of fans and supporters joined along the Ruff Ryders as they tributed DMX in front of the White Plains Hospital where he currently remains. Fox 5 NY reporter Lisa Evers captured footage as bikes rode around in his honor.
"We are on location. A whole group of the Ruff Ryders just came out to show support for DMX, and they are about to do a tribute," said Evers in the clip.
Amid the grim situation, it's also being reported that some of his 15 children have already made their way to come to visit their father, in what could possibly be their final goodbye. Prayers continue to raise that it would not be the case, but Fox Soul host Claudia Jordan tweeted out a premature tweet that the rapper had passed away.
The since-deleted tweet read "Rest in Paradise DMX", and immediately drew backlash from supporters on social media. One fan wrote, "No what you do is allow the family to post a statement of the persons passing then you send your condolences respectfully."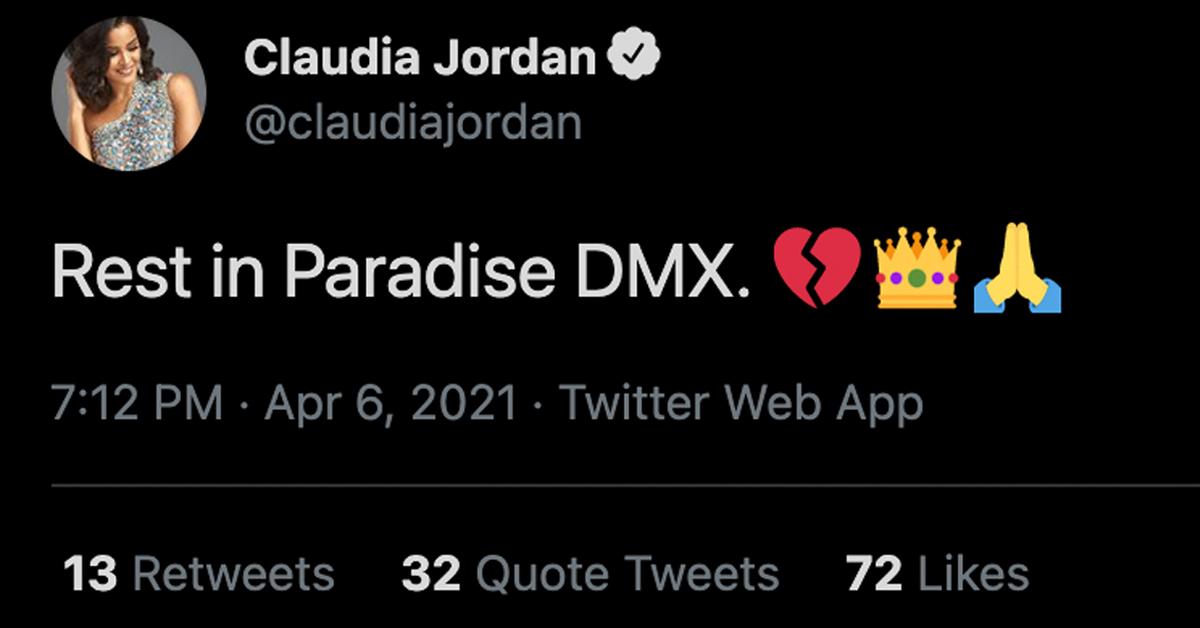 Shortly after realizing her mistake she quickly deleted it and apologized. X's manager, Steve Rifkind, came forward to share that on Wednesday, the rapper will undergo some more tests and addressed those who continue to share misleading information.
"DMX is currently on life support and in a coma. There are multiple people with inaccurate information about his well-being and it is not helpful and productive," said Rifkind as reported by Radar Online.
"Tomorrow he will undergo further tests on his brain function and his family will determine what's best from there. We appreciate your prayers and support," he ended.
Check out some of the responses below:
Her bob must be tucked too tight again 🙄

— Everybody hates kie! (@KieLovesKie) April 7, 2021
Never heard of you before today, First impressions are a MF, so now and forever more, to me – you will always be known as the broad that prematurely killed an icon via a damn tweet. You gotta chill.

— NOTEBOOK SHAWTY™ (@SirCalloway) April 7, 2021
Misinformed or not – it isn't her place to announce something like this before the family does.

— James Manns, CEBS (@imthemannns) April 7, 2021