Terry Crews has been open that the show he's currently a star of, Brooklyn Nine Nine, would be addressing some of the hot button issues that have swept the year in its upcoming season. While Crews has had much to say on social media, a resurfaced question he posed continues to make some feel uncomfortable.
Previously, he riled up the Twitterverse by insisting that he's "never afraid of the KKK," but more so of the people online who have attacked him relentlessly.
When I was young, I was never afraid of the KKK…

It was people like you. The threats, the intimidation, discouraging free thought, and "the insult of acting white".

My heart breaks because your behavior only reveals you don't know how powerful you are. https://t.co/vgJU9TCgmZ

— terry crews (@terrycrews) July 15, 2020
Despite the constant attacks, he still seems open to continuing the discourse around the issues that he's continued to highlight, regardless of the comments directed towards him. "My heart breaks because your behavior only reveals you don't know how powerful you are."
In an interview with The Talk, he defended his comments and took issues with how others have responded.
"In Black America, we have gatekeepers." Crews also added that he felt excluded purposefully because of his "mixed-race" wife.
"We have people who have decided who is going to be Black and who's not," he went on. "And I simply — because I have a mixed-race wife — have been discounted from the conversation a lot of the time, by very, very militant movements, the Black power movement."
He also brought attention to the some of the things that he's been called, possibly harkening back to Seales' comments which may have touched a nerve.
"I've been called all kinds of things — like an Uncle Tom — simply because I'm successful, simply because I've worked my way out of Flint, Michigan," he said. "Blackness is always judged."
Crews has asked similar questions before, in an attempt to either understand or judge the system as it stands. In 2017, he came under fire for posing a question about the LGBTQ population versus someone like the infamous Rachel Dolezal, who considers herself "transracial" but was lambasted for it, since she is a White woman.
"Why is it considered perfectly fine to be transgender but deemed totally unacceptable to be TRANSRACIAL?" wrote the actor on Instagram. The now-deleted post of course landed like a hot potato, with the discourse in his comments on the post on fire. Even on Twitter, a user asked if he had corrected his statements – to which he in fact, did.
Did he correct his statements? This is old.

Are you now informed, @terrycrews?

— Xavier D'Leau (@XavierDLeau) July 2, 2018
Later on, Crews seemed to angle onto the fact that he was asking the question on behalf of understanding his own children – who have grandparents that are White. Their own interracial heritage is something that Crews has mentioned navigating with regards to their mother and his wife.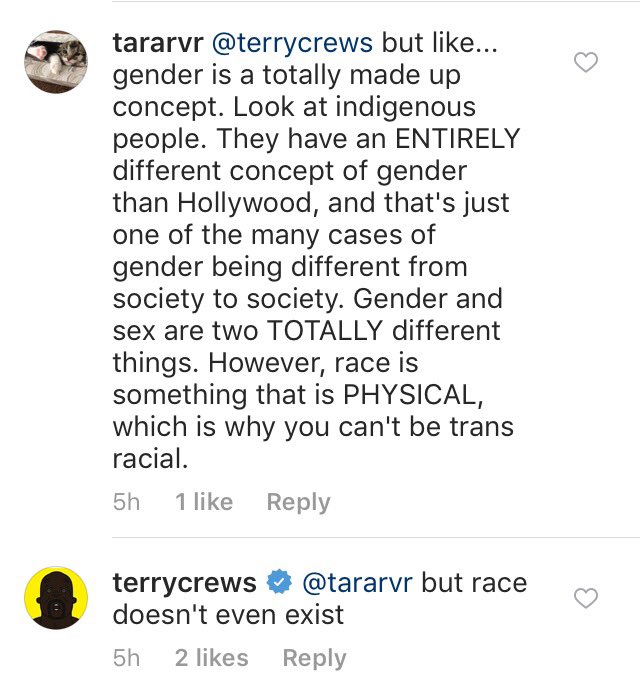 Crews seemed to be correlating the fact that because Dolezal has been described as "transracial," perhaps his own children should be able to associate their Whiteness without fear of racial retribution.
"All of my children have a white grandfather. Why can't I say they're white?"